DOX | Texting™ Features Surpass the Competition
Want to receive almost instantaneous responses from your patients? Try texting them.
The DOX|Texting™ feature allows offices the ability to text appointment reminders as late as 30 minutes before the appointment, send general announcements such as the office is closed due to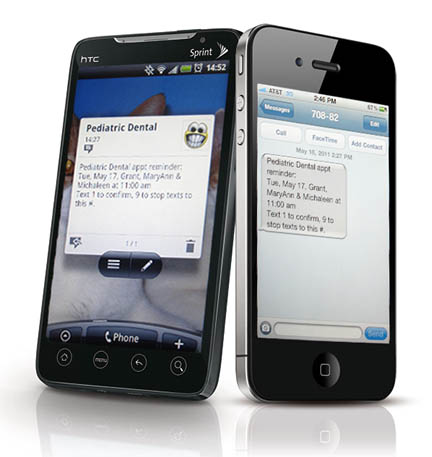 bad weather, and text birthday wishes on the day of the patient's birthday, even if it lands on a Sunday. Users can also send an individual text directly from the account or patient screen, such as "Susie left her backpack in our office". Or you can select one of several templates with a pre-defined message, such as a reminder of the sibling's new appointment times after mom reschedules their appointments.
One of the greatest advantages of texting is the ability to receive an instant response. For example, the appointment reminder can include an option "Text 1 to confirm". When the patient replies by texting 1, the confirmation level of the appointment in DOX will be immediately updated. If the patient responds with a message, such as "1 Doesn't Joey have appt too?", the appointment confirmation level will be updated, and the message will be returned to the DOX|eServices™ Viewer. This viewer is a listing that not only displays the patient's text message, but provides options such as rescheduling, canceling or confirming appointments. If appropriate, you can even respond to the text, such as "No, Joey's appt is on June 16 at 10 am."
Quick and Easy Implementation
Unlike emailing, which often takes six months to collect email addresses as patients cycle through their recall appointments, texting can be activated immediately, assuming your office has been collecting cell phone numbers. DOX includes a utility that will mark all selected phone types, such as Mom Cell or Dad Cell, as valid texting numbers. When generating a scheduling report, the resulting text messages can include not only the confirm option, but an opportunity to stop receiving texts, such as "Text 1 to confirm, 9 to stop texts to this #." If 9 is the text response, the phone number will be marked as "Never", preventing future texts to be sent to that number.
Texting Entry Designed for Pedo Practices
Texting can be assigned to all family members through the Family Phone Book. The Allow option indicates that the account has either given verbal, written or electronic consent that texting can be used for that phone number. By clicking Allow, the system can be set to automatically check Appt, which then assigns that texting number to all family members, a setting that most pediatric practices will prefer.
Texting Features that Outdo the Competition
Family Appointments in One Text
Unlike other texting products available, DOX|Texting combines all family members' appointments into one message. We even created templates to make the message as brief as possible, so that most families of four or less receive one text message under 160 characters. Plus, we include a new date and time format that only includes one appointment time for the entire family. Thus, if you schedule two siblings at 9:00 and 9:30, we'll only show one appointment time of 9:00 a.m.
Immediately Updates Your Account Data
Within seconds of a patient clicking confirm, the appointment in DOX is updated. In addition, if the patient sends a message, you'll see it in DOX with the ability to either respond with a text or make changes, such as confirm, reschedule or cancel the appointment.
Multi-Lingual Texts
Each text message (and email template) can be created in several languages. The template editors include a translator that will duplicate any message into the desired language. As the recall report generates the appointment reminder, if the patient's language preference is set to Spanish, then the text message is sent in the assigned language.
Auto-Responses
Texting has been enhanced to include Auto-Responses. For example, if the patient confirms their appointment, DOX can automatically send a thank-you response based on the scheduling code of the appointment that may remind pre-med patients to take their medication or new patients to arrive early to complete paperwork.
For more information on DOX|Texting, please contact KSB Dental at 866-410-4500.