DOX|Structured Chart is our clinical record keeping module, designed with the intent of being a perfect match for discerning pediatric dentists.  As the name would imply, we "structure" the clinical process to match the unique flow of the practice we are serving.  We also take charting to a high plane of specificity for pediatric dentistry.  We also take clinical record keeping to a high plane of specificity for pediatric dentistry, especially when considering the complexities of charting the ever-evolving child dentition.
Structured Chart's unique timeline snapshots (capturing each moment in the child's time with the practice), and support for mixed dentition, as well as comm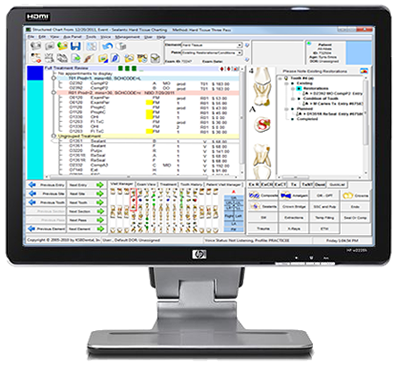 on pedo tooth conditions such as Congenitally Missing, Supernumerary, Over Retained, Ectopic Eruptions, etc… are just a few examples of a powerful odontogram and supportive chart.  Speed of both charting and organizing future treatment is a paramount focus so that practices can work at the "speed of pedo".
Documentation standards are extremely high in DOX|Structured Chart – We provide a powerful custom exam engine that results in our ability to match the software to any practice methodology and philosophy.  Over the last 10 years we have designed thousands of unique exams, evaluations, worksheets, report cards and consent strategies.  We go into every practice with a wealth of past pediatric/ortho creations to draw upon while we tailor the software for your needs.  We provide AAPD/ADA Board Guideline forms to document things like Trauma, Sedation, and Caries Risk to name a few.  The "Need for Speed" can be a powerful enemy of "Unparalleled Quality" – we deliver both.
Our "Structured Notes" are a powerful "chart narrative" strategy unique to DOX|Structured Chart that documents the story of the child's involvement for the life of their patient care in unique ways.  We go well beyond the "legal requirements' to a chart that is highly reviewable, and geared towards supporting high quality communication with the family as well.  Our chart narrative is a byproduct of your clinical process versus a writing exercise – designed to operate at the "speed of pedo".