The DOX web integration features can be considered the third major component of the DOX|Pedo Technology Suite. The original DOX|eComm module was born out of a need to answer the call of pediatric dental clients solutions desperate for pedo fluent communication support. At the time of creation, we recommended third party solutions for doing all manner of things but at the time a strong emphasis on appointment confirmations. However, our clients were always challenged by the fact that pediatric practices have a unique dynamic in which they treat minors as patients, but communicate with guardians (often about multiple siblings). These are trickier dynamics than they appear on their surface, therefore the vast majority of third party services available are just not pedo-centric.
The core concepts we consider are: 1) Patient is a minor, 2) Mom (guardian) is the audience, 3) Patient Care Management doesn't start or stop at the practice front door, 3) Mom doesn't want to receive an avalanche of communications for the entire family, 4) Mom is busy, 5) The practice is managing a large volume of precious cargo every day and need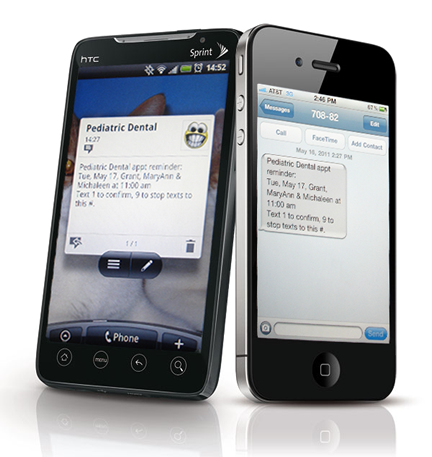 efficient/elegant strategies.
eServices is a newer area of focus for us than our management and clinical modules.  However, our core eService capabilities of being able to communicate to guardians about all siblings at once with bi-directional automatic updating (based on response) has been a big hit for a while. This service has been augmented by online bill pay, ability to see pertinent account information, and even make changes to account information from the comfort of home.
Our latest technology, takes an already powerful ability for mom to complete prerequisite clinical information like health histories and consents and elevates this to an amazing level. New Patient Health Information (PHI) Management capabilities for working with minors is extremely powerful. Mom is able to easily manage all sibling information with a completely overhauled Patient/Parent Portal experience developed over 3 years (Additionally, we are also now a Certified EHR Patient Portal for those practices wanting to meet these federal guidelines). The preparation and hand-off of critical PHI is easier than ever. Our new Accompany List and Family Chart features released in 2015 put us out of reach for the general dentistry applications that don't have it in their marrow to support pediatric dentistry.
Complete a full circle of Digital Workflow support for Patient Care Management at the Speed of Pedo.